We are excited to announce a future collaboration with one of UK's best known contemporary folk artist, Julie Arkell, who has agreed to give her first workshop here in May 2018, which will be the start of a new chapter for us here at Kerledan.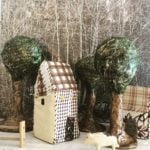 Julie works with papier mâché , vintage fabrics and embroidery to create her own distinctive magical creatures. She lives in London and has exhibited at the Crafts Council of Great Britain and the Contemporary Applied Arts, with 2 published books, HOME and AWAY, by Ruthin Craft Centre, to her name.
People come from all over the world to discover Julie's unique folk artwork and now we are lucky enough to have her here in Brittany.
– Learn more about our textile workshops